Annual Recognition Awards
Since 1953, the Milwaukee County Historical Society has honored individuals, community organizations and business that have worked diligently to preserve and promote local history. In 2003, a new category was added to recognize significant anniversaries celebrated by local organizations.
We look forward to celebrating with you on May 8, 2019.
A limited number of tickets are remaining. Please contact Morgan Sweet at 414.273.8288 or morgan@milwaukeehistory.net.
A delicious menu has been prepared for this event by The Pfister's Chef.
Please contact Morgan Sweet with any dietary needs.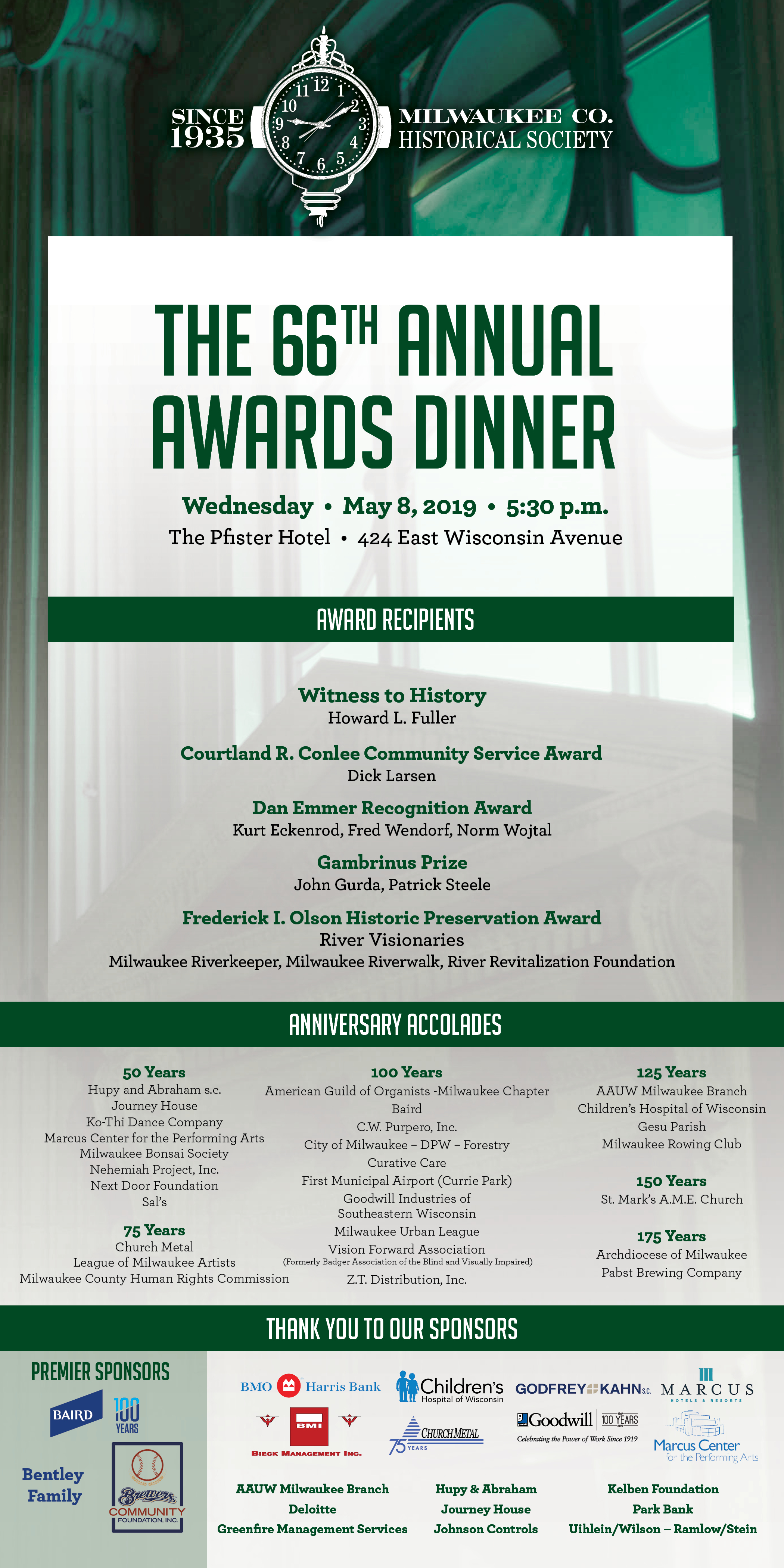 ---
Annual Award Descriptions
Witness to History.
This award honors those who have played a significant role in shaping and documenting our community's history.

The Courtland R. Conlee Community Service Award.
Named in 1981 for the Milwaukee Journal vice president devoted to the Milwaukee County Historical Society, this award recognizes individuals who make major contributions to preserving Milwaukee history over a career or lifetime.
Frederick I. Olson Historic Preservation Award.
Named in honor of legendary MCHS Board member Fred Olson, this award recognizes the efforts of individuals and organizations to preserve and protect historic architecture in Milwaukee County.
Gambrinus Prize.
Named for the god of brewing, and awarded to the best book-length contribution to Milwaukee historiography.
Dan Emmer Recognition Award.
Named for a long time MCHS volunteer and Board member, this award recognizes the efforts of volunteers or organizations that make significant contributions to the operation of the Milwaukee County Historical Society.
Anniversary Accolades.
Recognizes the 50th, 75th, 100th, 125th, 150th, and 175th anniversaries of local businesses, organizations, schools and universities.
---
Nominations for awards are taken throughout the year, and each year's slate of recipients are approved by the Board of Directors. If you would like to nominate an individual or organization for one of the Milwaukee County Historical Society's annual awards, please submit a letter or e-mail stating the award that you are submitting the nomination for and describing the accomplishments or contributions which you feel should be recognized.
Milwaukee County Historical Society
Attention: Award Nominations
910 Old World Third Street
Milwaukee, WI 53203
or Email Us
Should additional information be required, a representative of the Historical Society will contact you.