Gugler Lincoln Lithographic Print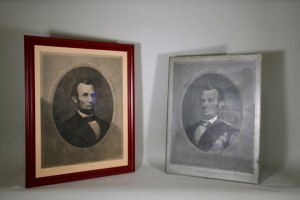 A wooden crate sits in the warehouse of the Milwaukee County Historical Society, one among many others.  Within it, safeguarded from the elements for years, is Henry Gugler's masterpiece: a large-scale engraving of President Abraham Lincoln.
Shortly after Lincoln's assassination, many artists sought to commemorate the fallen President with paintings, statues and other forms of portraiture.  John H. Littlefield, a campaign worker for Lincoln during the election of 1860, commissioned Gugler, then a vignette engraver for the Bureau of Engraving and Printing, to create an engraving from which prints could be created and sold.
After two years of labor, the largest life-size engraving of our sixteenth president was produced.  The image on the two-by-three foot steel plate, and the prints made from it, capture the distinguished look of one of our nation's most cherished leaders. The work was a career achievement for Gugler, who went on to form one of Milwaukee's largest printing houses, Gugler Lithographic Company in 1878.
After the initial print run was completed, the Gugler engraving plate fell into private hands for a time, but it was purchased by the company in the 1920's and generously donated to the Museum Division of the Historical Society in 1966.
Although other museums have offered to care for it, Gugler's plate is a cherished part of the Historical Society's collections because it serves dual purposes: illustrating the career of Henry Gugler and forever capturing the likeness of one of America's cherished heroes.