Kilbourn Daguerreotypes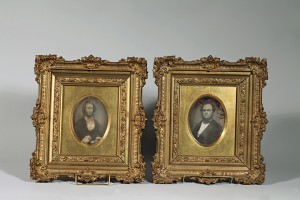 A gentleman, dressed in a suit of fine thread, sits at attention and with a steely gaze, impatiently waiting for his image to be exposed onto the copper plate located within the camera.  Such was the process of sitting for a daguerreotype during the 19th century.  The sitter, Byron Kilbourn, was a brash, controversial figure in both Milwaukee and Wisconsin. Known for his aggressive business tactics as a railroad executive and land speculator throughout the state, he is best known as being one of the founders of Milwaukee.  Two large daguerreotypes, one of Kilbourn and his wife, Henrietta are in the care of the Milwaukee County Historical Society.
By the time the photograph was taken, sometime between 1845-1860, Kilbourn was already a successful surveyor and land speculator, establishing Kilbourntown, a small village located west of the Milwaukee River.  Concurrently, the photographic process of daguerreotypes, were becoming more common across America.  For the settlers of cities and towns on the frontier like Milwaukee, they were capturing the beginning of an adventure, an end of a journey, or something in-between.  Today, they serve as an exemplary primary resource for historians, genealogists and researchers.
The process of producing a daguerreotype can be mired in technological jargon, but at its simplest terms, the image plate, usually made of copper is coated with silver iodide, a light-sensitive substance. During exposure, the plate sits in the camera from five to forty seconds then is removed, heated, washed and finally placed in a protective case. Due to its silver coating, daguerreotypes have a reflective surface and can act as a mirror.  To properly view the subject, it must be held at an angle to see the positive image clearly.
For years, these two images were on display within one of the Society's historic houses, the Benjamin Church House, a.k.a. Kilbourntown House.  They have been removed for reproduction and the originals will be housed within the museum's new collections storage areas, where environmental conditions are ideal for early forms of photography.  Early photographic processes like daguerreotypes are a tangible link to our leaders and ancestors of the past.  The Kilbourn daguerreotypes serve as a snapshot of a moment in the life of one of Milwaukee's founders.