Lighthouse Library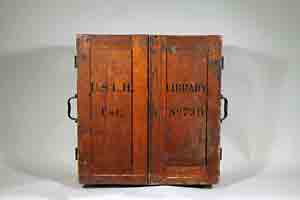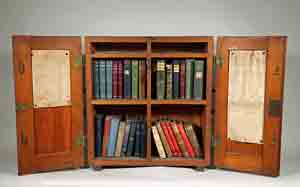 Lighthouses adorn the coasts of America's oceans and lakes, once a tool for ship captains to guide themselves and their crew to safety. Now they stand as a symbol of an era in marine history long gone.  The conservation efforts towards our nation's lighthouses and more locally, Milwaukee's North Point lighthouse are well documented.  While the history of the lighthouse itself is most prominent, what often gets lost is the tale of the lighthouse keeper and their families.
The life of a keeper was a solitary one, whose primary function was to keep the lighthouse lens lit at all times.  In the late 19th and early 20th century one of the ways a keeper kept busy when not tending to the lighthouse was reading.  The United States Lighthouse Establishment, precursor to the Coast Guard and the governing body of all lighthouses until the early 20th century provided traveling libraries that circulated between each lighthouse.
Each library was numbered and housed in a portable box.  On the insides of each door contained a reading list of what the library offered as well as a travel log, detailing at which lighthouses the library had been at, and the amount of time spent there.  The Society's library, number 739, began its journey at Eagle Bluff lighthouse in 1898, located on Door County's western shore, near Fish Creek. From there, it traveled to other, now historic lighthouse sites such as Wind Point, Waugoshance and Cana Island.  The library's last stop was at Point Betsie, Michigan on June 20th, 1912.  Many of the library's stops have been preserved or restored by local lighthouse and maritime enthusiasts throughout Wisconsin and Michigan.
The lighthouse library offered the keeper and his family a wide selection of fictional and non-fictional literature, such as Robinson Crusoe, Treasure Island and The Last Days of Pompeii.  With over twenty books, the library provided a needed break from the routine of running a lighthouse. Today, it serves as a fascinating time capsule of a by-gone era in America's maritime history.