Existing Buildings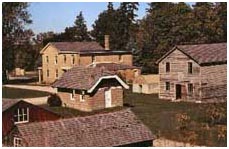 Nine original structures on the remaining 7.5 acres of land comprise the heart of the original estate. Five of the structures are depicted in a lithograph from the 1876 Atlas of Milwaukee County.
Threshing Barn
The threshing barn was originally built ca. 1858 of vertical board and batten design to house animals and store grain and carriages. It was reconstructed in the 1980s using the original interior beams.
Stone Barn
The stone barn was built from locally quarried limestone in three phases beginning in 1858. Horses were stabled in the barn during the lime industry period. Later a dairy herd was housed there. Two huge purlins support the roof and are braced by oak beams. The one-story lean-to on the south wall may have been a work or living area for the limeburners. The concrete twin silos were added in the late 1920s.
Lime Kilns
The four side-by-side pot kilns were built from the late 1840s to the early 1850s. Teams of horses hauled wagonloads of limestone from the quarry across the road. The stone was dropped onto racks of wood in the kilns. The wood was ignited, and the intense heat (2000°F) burned the carbon dioxide from the limestone, forming quicklime. After carefully slaking (adding water to) the quicklime, lime putty or powder were created. These materials are known by a variety of names such as slaked, hydrated, or pickling lime. .
The kilns were no longer used by the end of the 19th century and fell into disrepair. They were excavated and restored in 1983.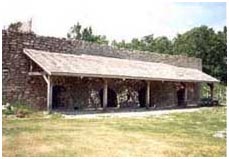 Granary (or Bunkhouse)
The Granary or Bunkhouse dates back to the 1850s. The interior is lined with bricks using a technique known as nogging. The building, sometimes called the "inside-out" building, was originally a worker's bunkhouse for workers and was later used as a granary, or place to store grain.

Farmhouse
The front portion of the farmhouse was constructed in the 1850s in the Greek Revival-style using Milwaukee cream city brick. The rear portion consisting of the dining room was added soon after. A lean-to in the back made of pink brick was finished in the 1930s. The Trimborn family lived in the farmhouse while the workers ate their meals in the large dining room.