69th Annual Awards Dinner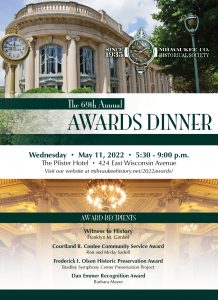 Join us for the 69th Annual Awards Dinner on May 11, 2022 at the Pfister Hotel.
Sponsorships make the Annual Awards Dinner, and our work all year long, possible. If interested in sponsoring this event, please fill our and return our Sponsorship Packet.
Purchase Individual Tickets here.
Contact Siena at SMorrissey@milwaukeehistory.net with any questions.
This year's Award Winners include:
Witness to History: Franklyn M. Gimbel
This award honors those who have played a significant role in shaping and documenting our community's history.

The Courtland R. Conlee Community Service Award: Ron and Micky Sadoff
Named in 1981 for the Milwaukee Journal vice president devoted to the Milwaukee County Historical Society, this award recognizes individuals who make major contributions to forging Milwaukee history through strengthening the community.
Frederick I. Olson Historic Preservation Award: Bradley Symphony Center Preservation Project
Named in honor of legendary MCHS Board member Fred Olson, this award recognizes the efforts of individuals and organizations to preserve and protect historic architecture in Milwaukee County.
Dan Emmer Recognition Award: Barbara J. Meyer
Named for a long time MCHS volunteer and Board member, this award recognizes the efforts of volunteers or organizations that make significant contributions to the operation of the Milwaukee County Historical Society.
Thank you to our generous Sponsors:

Presenting Sponsor: J. Jeffers & Co.

Premiere Sponsor: Anon Charitable Trust
Event Sponsors:
Roundy's
Godfrey & Kahn
The H. Niedecken Company
Thomas Bentley III

Corporate Sponsors:
Brewers Community Foundation
Bieck Management
CG Schmidt
Croatian Eagles Soccer Club
Dorothy Inbusch Foundation
First Midwest Bank
Gimbel, Reilly, Guerin and Brown LLP
Kelben Foundation
Marcus Hotels + Resorts
Milwaukee Symphony Orchestra
RAMLOW/STEIN Architecture + Interiors
Civic Sponsors:
Alice's Garden Urban Farm
Catholic Financial Life
Calvary Presbyterian Church
Cousins Submarines, Inc.
Daniel Hoan Foundation
Doris and Ed Heiser
Dr. Jane Wright & Tim Wright
Franklyn M. Gimbel
George L.N. Meyer Family Foundation
Lindsey Draper
Lynda and Tom Curl
Mary and John Emory
Micky and Ron Sadoff
Milwaukee Audubon Society
Milwaukee College Prep
Milwaukee Fire Bell Club
Milwaukee Fire Bell Club – IFBA Convention Committee
Museum of Beer and Brewing
Nathan D. Imfeld and Hilary Hawley
Saint Lucas Lutheran Church and School
Wisconsin Historical Society Foundation
Mark Zalewski
UWM Department of History
Versiti
We look forward to celebrating our Anniversary Accolade Recipients:
175 Years:
Cathedral of St. John the Evangelist
The H. Niedecken Company
150 Years:
Calvary Presbyterian Church
Design House
Saint Lucas Lutheran Church and School
Greenwood Cemetery Association
Roundy's
125 Years:
Milwaukee Audubon Society
City of South Milwaukee
100 Years:
Croatian Eagles
North Shore Presbyterian Church
United P & H
Women's Court and Civic Conference of Greater Milwaukee Area
75 Years:
Hal Leonard
Milwaukee Brewers Football Club
Milwaukee Fire Bell Club
JD Griffiths Company
Versiti
50 Years:
Cousins Submarines, Inc.
Alice's Garden Urban Farm
Milwaukee Antique Bottle and Advertising Club