EVENTS & EXHIBITIONS
John Gurda's Making of Milwaukee: Fourth Edition Release and Signing
Saturday, December 8, 11 a.m. at the Historical Center, Free, Books available for sale
The Making of Milwaukee, initially published in 1999, is a popular book written by local author and historian John Gurda that has earned a place as the standard history of the community it chronicles. The book, with more than 30,000 copies already in print, has been refreshed for a new generation of readers and a fourth edition will be released on December 8. This new edition will include a thoroughly updated text and a new chapter that carries Milwaukee's story into the early decades of the tumultuous twenty-first century. A book release event, which includes a presentation and signing with John Gurda, will take place at the Milwaukee County Historical Society and will be the first time the book is available to the public.
---
MCHS Book Sale
December 7 & 8, 10 a.m. to 3 p.m. at the Historical Center
Every few years, the Society cleans out the shelves of books, photo prints and frames that aren't part of the collection and are either duplicates or not appropriate for our mission. Books new and old are available, photo frames and photo prints will be for sale on the second floor. First come, first serve. See you then!
---
Milwaukee Holiday Treasures and Traditions Exhibition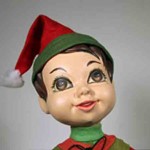 The Milwaukee County Historical Society celebrates the holiday season with an exhibition that shares the many traditions and treasures of Milwaukeeans during this magical time of year. Visitors are invited to the Historical Society to see the holiday décor and to experience the Holiday Treasures and Traditions Exhibition which includes historic images and objects related to Milwaukee such as the Christmas Parade and Santa's favorite helper, Billie the Brownie.
Milwaukee County Historical Society
910 N. Old World 3rd St.
Milwaukee, WI 53203
---
Meet MKE
Meet MKE is the newest permanent exhibit at the Milwaukee County Historical Society. Showcasing some of the most iconic artifacts in the collection, this exhibit explore Milwaukee history from bridges and breweries to founders and festivals.
presented by VISIT MILWAUKEE
Milwaukee County Historical Center
910 N. Old World 3rd St.
Milwaukee, WI 53203
---
Milwaukee Kayak & MCHS History Tours
Explore Milwaukee and its history as you paddle down the Milwaukee River. Learn about Milwaukee, past and present, from the viewpoint of the Milwaukee River led by guides from the Milwaukee County Historical Society.
These tours are offered each year from May through September and reservations are required. Group outings can also be arranged.
Trip includes:
Use of kayak or canoe
Instruction
Milwaukee history interpretation
A stop at the Historical Society along the banks of the Milwaukee River with a short tour of the museum
Children age 12 and older can participate with just one chaperone per 10 students.
Please call for information for trips with children ages 11 and under.
This outing is a collaboration between the Milwaukee County Historical Society and Milwaukee Kayak Company. For more information about tickets please contact:
Beth @ Milwaukee Kayak Company
#(414) 301-2240
Email: info@milwaukeekayak.com
Cost: $35 per person ($20 of each ticket will be donated back to the Milwaukee County Historical Society)
---
Trimborn Harvest of
Art & Crafts
First Weekend After Labor Day
10 a.m. to 4 p.m.
Please go to www.trimbornfarm.com for exhibitor applications and more information about this annual event.
---