EVENTS & EXHIBITIONS
Summerfest 50 Exhibit
May 19 through September 29
A comprehensive exhibit that will be housed at the Milwaukee County Historical Society opens to the public through September, complimented by the current exhibit Memories and Melodies: 200 Years of Milwaukee Music.
An exclusive media preview of the Summerfest 50 Historical Exhibit presented by Pick 'n Save will be on May 18.
---
A Crowded Hour: Milwaukee During the Great War
Book Signing Event
Thursday, June 1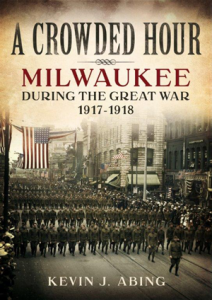 5:30 p.m. to 8:00 p.m.
Kevin Abing, Archivist at the Milwaukee County Historical Society, will be giving a brief talk followed by a book signing.
A Crowded Hour: Milwaukee During the Great War delves into the personal, political, economic and social upheaval that engulfed the city in 1917-1918. Overzealous pro-war patriots subjected Milwaukee's German-American community and Socialist Party to pervasive suspicion and outright hostility in an effort to redeem Milwaukee's reputation, but the hand-wringing was for nothing as city residents answered every government demand to prosecute the war.
Books will be for sale at the Historical Society.
---
Summerfest 50 Happy Hour and River Rhythms Kick-Off
Wednesday, June 14
4:30 p.m. to 7:00 p.m.
No establishment can quite compare with this unique opportunity to enjoy the Summerfest 50 exhibit along with the tunes of Milwaukee's past while sipping a beverage from our pop-up bar.
Join us on our patio and enjoy the first performance of Westown's free, outdoor summer concert series in Pere Marquette Park.
admission is free, cash bar available
---
Brunch with the Barons
Saturday, June 10
10:00 a.m. to 2:00 p.m.
Forest Home Cemetery is the resting place for many of Milwaukee's beer barons and the Brunch with the Barons event brings their lives and stories to light through re-enactors.
Walk the cemetery's "beer path" winding visitors through the beautiful grounds, past the resting places of the Blatz, Pabst, Schlitz, Melm, and Gettelman families; among others. At each location, a re-enactor or family member will be present to talk about their lives or to share stories of their family members and family brewery.
Tickets can be purchased at the Forest Home Cemetery website.
Check out our Facebook page for more information.
---
Annual Ice Cream Social
Wednesday, August 23
6:00 p.m. to 8:00 p.m.
Join us for our annual ice cream social event. See the Historical Center building and our exhibit Melodies & Memories: 200 Years of Milwaukee Music, learn about ways to volunteer, and enjoy a free scoop of ice cream while listening to the music of River Rhythms from our patio.
---
Milwaukee Kayak & MCHS History Tours
Explore Milwaukee and its history as you paddle down the Milwaukee River. Learn about Milwaukee, past and present, from the viewpoint of the Milwaukee River led by guides from the Milwaukee County Historical Society.
Space is limited and online pre-registration is required. These trips will be offered five different days this summer and all trips will be similar. We will paddle upriver as far as time allows before turning around.
Trip includes:
Use of kayak or canoe
Instruction
Milwaukee history interpretation
A stop at the Historical Society along the banks of the Milwaukee River with a short tour of the museum
Children age 12 and older can participate with just one chaperone per 10 students.
Please call for information for trips with children ages 11 and under.
This outing is a collaboration between the Milwaukee County Historical Society and Milwaukee Kayak Company. For more information about tickets c please contact:
Beth @ Milwaukee Kayak Company
#(414) 301-2240
Email: info@milwaukeekayak.com
Cost: $35 per person ($20 of each ticket will be donated back to the Milwaukee County Historical Society)
---
Trimborn Harvest of
Art & Crafts
Saturday, Sept. 9th & Sunday, Sept. 10th
10 a.m. to 4 p.m.
Please go to www.trimbornfarm.com for exhibitor applications and more information about this annual event.
---