Seal of the City of Milwaukee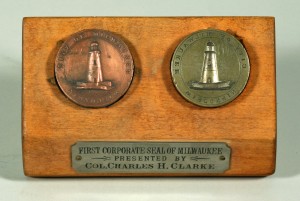 As Juneautown, Kilbourntown and Walker's Point joined to create Milwaukee, city departments and their protocols were created to ease the city's transition from frontier town to city.  Milwaukee's seal was one such tool that gave Milwaukee legitimacy as an urban center.  The first corporate seal of Milwaukee was donated to the Historical Society as a part of the Old Settler's Club collection. As self-imposed guardians of Milwaukee's pioneer history, they captured one of the most vital and early tools of city government.
Designed around Milwaukee's incorporation in 1846, the seal was first used on land deeds, which were common in the city's early years when large tracts of land were purchased by its early settlers. Some of the earliest deeds with the seal pre-date incorporation by two years and detail a land purchase by Daniel Wells, a prominent Milwaukee businessman and land speculator.  Different types of seals affix its symbol using a variety of materials, like wax or ink.  Milwaukee's first seal incorporated the use of ink with an old printing process known as intaglio to imprint documents.
Its design centers around Milwaukee's first lighthouse: a symbol of the rich marine and shipping commerce during the city's early years.  As the city grew and other industries flourished, other elements of Milwaukee garnered inclusion on the seal and its re-design was considered.  The end result produced the corporate seal that is still in use today.  While the lighthouse and Lake Michigan are still visible in the center, other elements that were prominent in the latter half of the 19th century have been incorporated.  Four scenes are arranged around the central scene of the lighthouse.  They are a railroad train, Milwaukee's first City Hall, a steamboat on Lake Michigan and a house.
While the seal itself is in safekeeping with Milwaukee's City Clerk, a permanent, more colorful version of it resides in the form of a stained glass window in the City Council chambers.  As part of a Works Progress Administration project, the window was created by artists and installed in 1939 by Conrad Schmitt Studios.
As Milwaukee grows both with its diversity of citizens and businesses, the seal's design, like many other landmarks of Milwaukee remind us of what values and industries helped create our city by the lake.