Celebrating 90 Years of Billie the Brownie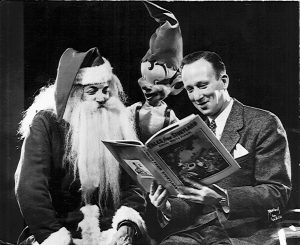 The Milwaukee County Historical Society is celebrating the 90th anniversary of Billie the Brownie's first radio broadcast. Billie the Brownie delighted millions of young midwestern WTMJ radio listeners, capturing the hearts and minds of those youngsters from November 8, 1931, to December 24, 1955.
Billie, the tiny elf with the squeaky, high-pitched voice, was Santa's most trusted helper. Every year before Thanksgiving, Santa Claus sent Billie and his dog Willie Wagtail from the North Pole to Milwaukee to help boys and girls get ready for Christmas.
Children ran home from school to listen to Billie the Brownie on the radio each weekday evening at 5:00 PM. Billie would encourage them to do their chores, brush their teeth, eat their vegetables, mind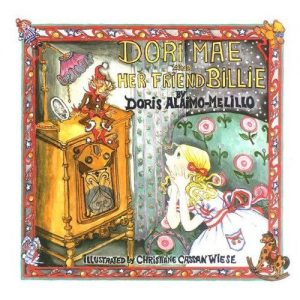 their parents, and write their Christmas "wish letter" to Santa. Each child sat anxiously in front of the radio, listening to Billie's progress reports on toy making and the Peeper Report on who was good, who was bad, and who needed improvement. Captain Larry, also known as Larry Teich the WTMJ radio announcer, would contact Santa Claus by short-wave radio in the North Pole. If everyone was 'good', Santa would read a story from his Magic Storybook. BUT, during the four-week broadcast, things did not always go smoothly in Toyland, and boys and girls were not always good. Therefore, Santa did not always get to read his stories. That usually struck terror into Billie's listeners and each child would have to do a personal check on whether or not they had been bad and therefore at fault for the book not opening. There were lots of sound effects that made the imagination soar. It all became so real.
Each evening, several lucky children would have their wish letter read on the air. Dori Mae, who was born and raised in Milwaukee during the mid '40s to mid '50s, was one such child. She recalls in her book, Dori Mae and Her Friend Billie, her wish to have her letter read on the air. Did her wish come true?
Billie the Brownie is a part of Milwaukee's heritage, a part of its holiday tradition. Traditions are important. They keep us grounded. They are things we can count on. They make us feel safe. Couldn't we all use a little of the Billie the Brownie tradition right now? Do you recall those fond days when our imaginations took flight listening to Billie?
Billie sparked a wonder within our imaginations and still does for many today.
Share the joy of Billie the Brownie with the children's book Dori Mae and Her Friend Billie by Doris Alaimo-Melillo, and by listening to Doris read it out loud. Plus, listen to a new Billie the Brownie story that goes beyond the pages of this beloved book.
You can also purchase the original radio recordings with the Billie the Brownie 75th Anniversary CD.
Give the reminder of this wonderful tradition by supporting the preservation of our Billie the Brownie collection through Adopting a Billie the Brownie Artifact. You, or your recipient will receive a certificate of adoption. All proceeds from the Adopt an Artifact program will support the Collections Department's artifact preservation program.