Naturalization Papers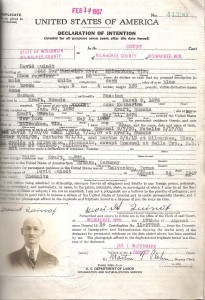 Some of the most valuable and most heavily used items in all of the MCHS Research Library collection are the naturalization papers.  Naturalization papers, or citizenship papers include a variety of information on individuals, depending on the time period.  There were two steps to the naturalization process.  First individuals would file a Declaration of Intention.  This was a document that said they intended to become a citizen of the United States.  The second paperwork was the Petition for Naturalization.  When the petition was filed, the individual would stand in court and state that he renounced his former country and became a citizen of the United States.  Each county in the United States was responsible for handling naturalizations for the citizens of that county.  People living in Milwaukee County would therefore travel to the County Courthouse and file their paperwork to become a citizen.  Individuals needed to live in Milwaukee County at least one year before filing for citizenship.  Women did not fill out paperwork before 1922.  They were naturalized under their husband's or father's paperwork.
The records that exist today have varying information for genealogists.  The early documents, those before 1906, contain only basic information.  This included the country of origin, date of birth and date of arrival.  However, after 1906, the naturalization process in the United States was standardized and at that time the paperwork began to include much more information.  The later documents include specific city or town or birth, name of wife and names of children, date and port of entry to the United States, physical descriptions of the individual, and in many cases a photograph of the individual.  After 1941 Milwaukee County decided to no longer process naturalizations.  It was at that time that the process was transferred over to the federal level.  The naturalization records for Milwaukee County are only housed here at MCHS, and therefore they are one of the most valuable items in all of the collections.
You can request a search of these Naturalization Records.