Jeremiah Curtin House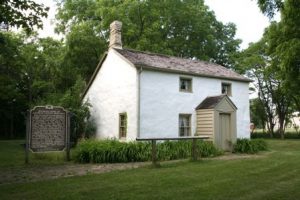 Address
Jeremiah Curtin House
West Grange Avenue and South 84th Street
Greendale, Wisconsin
414-273-8288
Tour Hours
Curtin House is open the 2nd & 4th Saturday June-August from 10am-2pm. Donations welcome.
History
David Curtin, his wife Ellen, and infant son Jeremiah were among a group of Irish immigrants who settled in the old Town of Greenfield in the mid-1830s. With help from a stone mason, David built the first stone house in the Old Town of Greenfield. It was sold to the Trimborn family in 1866 and remained occupied until the 1920s. The Milwaukee County Historical Society acquired the house in 1952 from the federal government, and it was selected as Milwaukee County's Bicentennial Project in 1976. Funds raised by various community organizations helped restore the site in the late 1970s. It was officially dedicated on the 150th anniversary of Jeremiah's birth, September 6, 1985.
Please call (414) 273-8288 or email for tour information.