Kilbourntown House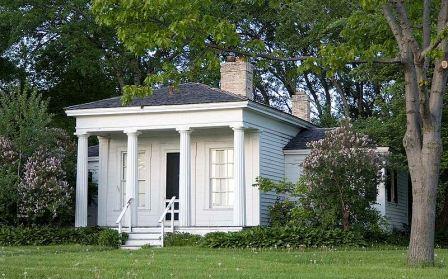 Kilbourntown House, also known as the Benjamin Church House, was built in 1844 by Benjamin Church, a carpenter from New York. Church, his wife and six children lived in the house, which was originally located in the section of Milwaukee known as Kilbourntown. An excellent example of Greek Revival architecture, the house was saved from destruction in 1938 when it was moved to Estabrook Park and restored as a WPA project, The home contains an outstanding collection of mid-nineteenth century furniture and decorative arts. A kitchen herb garden neighbors the home. The house is maintained jointly by the Milwaukee County Historical Society, the Milwaukee County Parks, and the Colonial Dames. Kilbourntown House is listed on the National Register of Historic Places.
Address
Kilbourntown House
Estabrook Park on Estabrook Drive, just north of Capitol Drive
Shorewood, Wisconsin
Hours of Operation
June through September
Sundays: 12pm-4pm
Admission is free, donations welcome.
Tours
Please call (414) 273-8288 or click here to request group tour information.